Why cloud-based billing is the way forward
It has never been more important for businesses to provide simple, fast and friction free billing. Since the pandemic, businesses have had to adapt by implementing a variety of cloud solutions across their infrastructure. In this article we discuss cloud-based billing and how you can use it to improve your billing process and deliver timely cash flow.
Cloud is here to stay
Cloud solutions are nothing new – they've been around for almost two decades and despite everything pointing to them delivering business efficiencies, cost-benefits and competitive advantage, a large portion of the business community were still operating without them pre-Covid. However, cloud adoption has seen phenomenal growth over the last year with the pandemic accelerating cloud deployment quicker than anticipated.
This trend is likely to continue throughout 2021 and beyond. Companies continue to move more of their business-critical systems, data, applications and infrastructure to the cloud because of its recent success and the new hybrid model of combining remote and office-based working.
The world's appetite for quicker, faster and more efficient ways of working continues to grow, so too does cloud adoption. It's no longer an easy entry solution that only works for small companies. It has started to underpin the way that many businesses operate with the move away from clunky and unreliable in-house servers.
Companies that invest in big data, cloud, mobility and security enjoy up to 53% faster revenue growth than their competitors according to Dell. If there is one key positive for business to take from the last year – and, let's face it, there really aren't that many – it's that companies have had to adopt and embrace new technologies across their business, in order to survive and thrive. To understand the benefits of a cloud-based billing system we have listed some key business advantages below.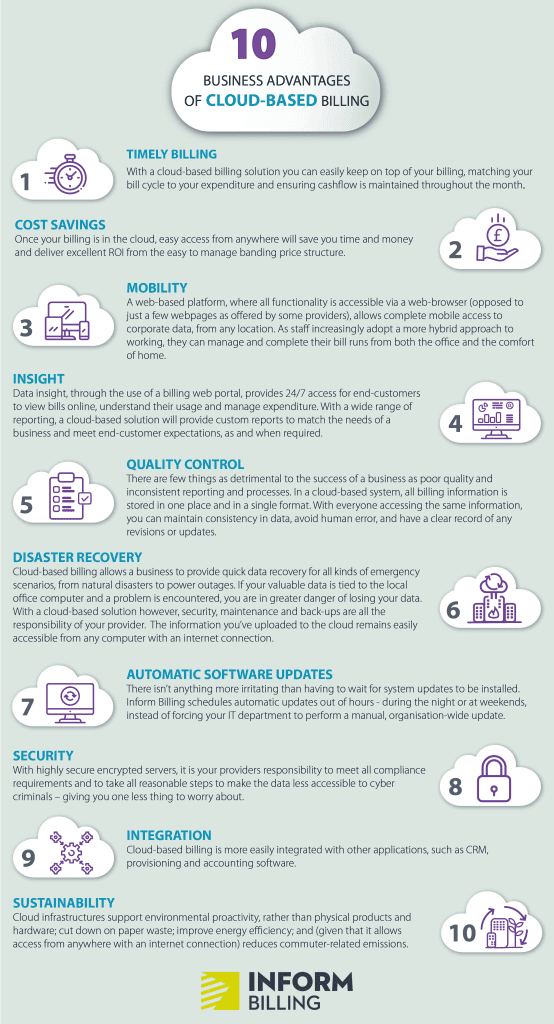 The future of cloud billing – revenue control is key
Cloud billing offers opportunities to embrace new technologies and a less real-estate reliant future. Those technologies will continue to develop, particularly with the advent of 5G and the IoT. Many everyday administrative systems are already available in the cloud, with billing being just one of them.
Revenue control is vital to any company looking to expand and thrive, and dynamic billing is the answer to understanding revenue and forecasting profits and cash-flow going forward. Time and accessibility are key to any effective system and having cloud access means you can spend less time, achieve greater accuracy and efficiency, deliver better customer service and increase turnover, without significant additional administrative effort.
So, working with a company that can provide a truly cloud-based billing system, gives great advantages to those companies who wish to control their finances, understand their cashflow and profit margins, and be able to truly determine the power and opportunities of their revenue stream.
In summary
Cloud adoption statistics highlight that 2020 has been the year of the cloud, and while it's hard to predict what the next ten years look like, one thing's for sure, the cloud is here to stay.
What the pandemic has done, is force those more cautious about cloud adoption to embrace it and wonder why they've been putting it off for so long.