As a specialist in telecoms, IT and M2M & IoT billing – Inform Billing director, Darren Salisbury – gives his advice for resellers considering entering the IoT arena in a special guide released alongside the May edition of Comms Business magazine.  See below for the full feature: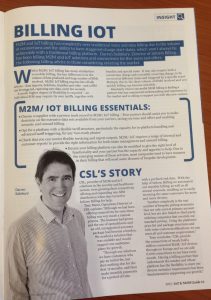 Billing IoT
M2M and IoT billing has complexity over traditional voice and data billing due to the volume of connections and the ability to have staggered charge start-dates, which won't always be achievable with a traditional billing platform.  Darren Salisbury, Director of Inform Billing, has been billing M2M and IoT solutions and connectivity for five years and offers the following billing advice to those considering entering the market:
"Whilst M2M/ IoT billing has many similarities to mobile billing, the key difference is in the volume of data produced and huge number of SIMs involved.  M2M/ IoT billing requires lots of bulk actions – data imports, deletions, transfers and edits – and a SIM can be triggered, capturing new data, every few seconds.
"A much higher degree of flexibility is required – an individual SIM may require its own tariffs, together with bundles and special rates.  It may also require both a connection charge and a monthly recurring charge, to be invoiced at different times and triggered by a specific event.  Multiply this by the sheer volume of SIMS involved and very quickly billing can become unwieldy.
"Absolutely vital to successful M2M billing is finding a partner who has commercial understanding and experience in the market and is willing to support you with this new venture."
M2M/ IoT billing essentials:
Choose a supplier with a proven track record in M2M/ IoT billing – Your partner should assist you to make decisions on the extensive data sets available from your carriers, saving you time and effort and enabling accurate and onward billing.
Opt for a platform with a flexible tariff structure, particularly the capacity for in-platform bundling and advanced tariff triggering, for any 'test-ready phases'.
Check that you can receive flexible invoicing and export outputs. M2M/ IoT requires a range of internal and customer reports to provide the right information for both estate management and onward billing.
Ensure your billing platform can also be modified to give the right level of functionality and your partner has the capacity and appetite to help. Due to the emerging nature of these services, most companies tend to have nuances in their billing that will need some element of bespoke development.
CSL's story
CSL, provider of M2M and IoT solutions in the security and healthcare sectors, were growing their connectivity offering and expanding into SIM distribution when they turned to Inform Billing for help.
Tony Mann, Operations Director at CSL explains: "Although we had been offering connectivity for some time, billing was very much a manual process.  The business had grown and the use of spreadsheets and an old, unsupported accounts package had become a burden.   We needed a solution that was scalable and would support our ambitious plans for growth.
"Through our solutions we have customers who pay an initial fee, but then have differing requirements for monthly or annual billing for a fixed period or open ended contract term.  With the help of Inform Billing we automated our monthly billing, as well as all annual renewals, enabling us to easily invoice the same customers for more and more devices.
"Another complexity is the vast number of bespoke pricing structures that not only exist at primary account level, but are also linked to third party ordering companies that override our standard pricing.  Using the platform's price list and package structures and with some custom modifications, we can meet all end customer requirements."
Tony concludes: "CSL provide the connectivity of nearly half a million connected M2M/ IoT devices throughout Europe and we are add 6,000 connections to our base every month.  Having a billing partner that understands the market and whose platform has the flexibility to meet our diverse customer requirements has been fundamental in supporting our growth."
Find out more about Inform Billing's IoT/ M2M billing solutions