As a specialist in telecoms, IT and IoT billing, our very own Shaun Bodsworth gives his advice for resellers considering entering the IoT arena in a special guide released today with the May edition of Comms Business magazine.  See below for the full feature: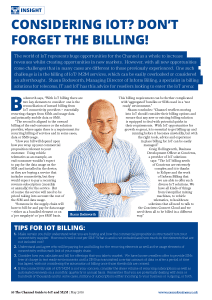 Considering IoT?  Don't forget the billing! 
The world of IoT represents huge opportunities for the Channel as a whole to increase revenues whilst creating opportunities in new markets. However, with all new opportunities come challenges that in many cases are different to those previously experienced. One such challenge is in the billing of IoT/ M2M services, which can be easily overlooked or considered an afterthought. Shaun Bodsworth, Managing Director of Inform Billing, a specialist in billing solutions for telecoms, IT and IoT has this advice for resellers looking to enter the IoT arena:
Bodsworth says, "With IoT billing there are two key elements to consider: one is the reconciliation of inward billing from IoT connectivity providers – essentially recurring charges from SIMs and usage data and primarily mobile data or SMS.
"The second is aligned to the onward billing of the end-customer or the solution provider, where again there is a requirement for recurring billing of services and in some cases, data or SMS usage.
"How you bill will depend upon how you wrap up your commercial proposition relevant to your customer. Using vehicle telematics as an example, an end-consumer wouldn't expect to pay for the data usage on the SIM card installed in the device, as they are buying a service that includes connectivity, but they would expect to pay a recurring revenue subscription (monthly or annually) for the service. But of course the service will need to be priced taking into account the cost of the SIM and data usage.
"Someone in the supply chain will have to bill for and pay for data usage – either as a bundled element or on a 'per megabyte' or 'per SMS' basis. This billing requirement can be further complicated with 'aggregated' bundles or SIMs used in a 'test ready' environment."
Shaun concludes: "Channel resellers moving into IoT should consider their billing options and ensure that any new or existing billing solution is equipped to deal with potential quirks in their requirements. With IoT opportunities for growth so great, it is essential to get billing up and running before it becomes unwieldly, but with the right tools, advice and experience in place billing for IoT can be easily managed."
Craig Hollingworth, Business Development Officer at Concirrus, a provider of IoT solutions concurs: "The IoT billing needs of Concirrus are extremely complex and it is thanks to Eclipse and the work of Inform Billing that we are able to offer such diverse IoT solutions. We have all kinds of things from Caterpillar mining machines, to vehicle telematics, to healthcare solutions that all need to talk to the Concirrus Connect Cloud and we need them all to be billed in a different way."
Tips for IoT billing:
1. Make certain you fully understand what you are buying and how the commercial proposition is structured from your connectivity supplier. How much will it cost per SIM? What is and is not included and how much do the elements that are not included cost?
2. Understand and agree who will be paying for and billing for the recurring elements as well as the usage elements of connectivity within each link of your supply chain.
3. Consider how you calculate and bill for offerings that you take to market. We have known resellers offer to provide SIMs free of charge in test ready environments until a SIM has transmitted a certain amount of data or after a period of time has lapsed, without considering the automation of billing once those thresholds are crossed.
4. If the connectivity side of IoT/ M2M is not your concern, consider the sheer volume of recurring subscriptions as well as automated renewals on a monthly, quarterly or annual basis. Remember that you are potentially dealing with tens or hundreds of thousands and in some cases, millions of subscriptions either incoming to your business or outgoing, or both.
The full 2016 'IoT and M2M – A Guide to the Internet of Things and Machine to Machine Applications' gives reports, advice and thoughts from across the channel and is available here. 
 Find out more about Inform Billing's IoT/ M2M billing solutions