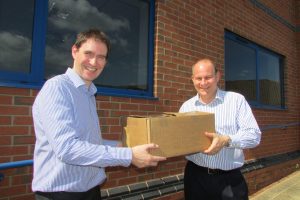 Inform Billing has moved into new premises, on the edge of the village of Hilton, gaining more space for its growing workforce.
The Derby-based billing specialist was formed in 2010 and since then has grown to provide services to over 100 customers, billing between a few hundred and several million pounds every month.  The past year has seen the software developer invest in a growing team of highly skilled and qualified staff and work towards bringing the next generation of billing software to market.
Shaun Bodsworth, managing director at Inform Billing says "We are continuing to grow as a business and have ambitious plan for the future.  As we take on more and more customers, we are creating new jobs in software development and customer support.  We are a relatively small set-up but have already added three new members to the team since the start of the year."
Inform Billing unveiled its refreshed brand at the end of 2013, reflecting its increasing size and capability and kick-starting the next stage of growth.
Shaun continues: "Where the business has been very strong in the past is attracting new entrants to the reseller market and supporting them through the process.  We are continuing to do this, but also targeting more of the medium sized re-sellers who will stay with us and grow into the large organisations of tomorrow.
As well as diversifying and providing billing services to new sectors such as M2M, managed services and managed print, the billing specialist is also offering additional services to its core customer base of telecoms re-sellers.
Darren Salisbury, director and co-founder explains: "As the developer of a very complex piece of software, we are not only experts in everything billing but also systems integration.  We are increasingly offering consultancy services to businesses who want to streamline and automate their processes.  We also provide a managed billing service to those who require it and can offer enhanced opportunities for online services and marketing.
"The new office provide us with dedicated space, enabling us offer group training packages to our customers."
Inform Billing's new address is Chatsworth Court, Alpha House, Uttoxeter Road, Hilton, Derbyshire DE65 5GE.